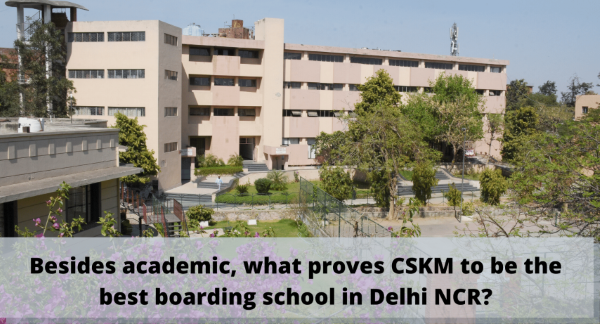 Besides academic, what proves CSKM to be the best boarding school in Delhi NCR?
CSKM Public School
2020-03-25 04:57
Founded by the army personnel - Colonel P.S Satsangi, CSKM has become a brand name in the race of the best boarding schools in Delhi and Gurgaon. The school receives thousands of applications every year, which defines its popularity due to its top-notch facilities and academic services.
Apart from academic values, the school also scores top in sports, discipline, and extracurricular activities. The well-experienced staff and teachers are dedicated to offering their best for your kids' overall development.
From fitness to hygiene, everything is focused at priority to keep your child healthy and fit.
Here are the factors that prove CSKM the best day boarding school in Delhi:
Great hostel facilities
2-3 beds are the maximum settled in a spacious room with separate almirah and proper ventilation. The cleaning facilities sanitize all the rooms and premises in the hostel with high-grade sanitizers to kill germs and coronaviruses.
Hygiene and Health are the topmost priority
You won't notice any dirt on the floors and walls as the cleaning department never fails to make the school premises clean and free from germs. Even the door handles and knobs are cleaned properly to make them free from novel coronavirus 2019.
The best quality food is provided to all the students. Students who are participating in sports, get special nutritional diet as per the requirement.
Availability of experienced coaches and teachers
Well-experienced instructors and teachers are appointed for providing the best training in sports and extracurricular activities. Every year, hundreds of students perform at the national level for different sports and athletics.
Medical Facilities
The advanced medical facilities are set-up with a team including a general physician and a doctor. Regular check-ups are scheduled to ensure the safety of all the students at CSKM boarding school. A well-equipped ambulance is also prepared to handle emergency cases at school.
24-hour CCTV Protection
All the classrooms and halls at CSKM boarding school are protected under the surveillance of 100s of CCTV cameras. With the help of these CCTV cameras, the school ensures the safety of all the students here in the school.
Located in Greener Area
Spread in 15 acres, the school is located far from the hustle and bustle of the city, which is a greener side located in the Aravali Hills.
The PM2.5 levels are recorded healthy here, which is far better from the rest of the places in Delhi NCR.
Related Post :