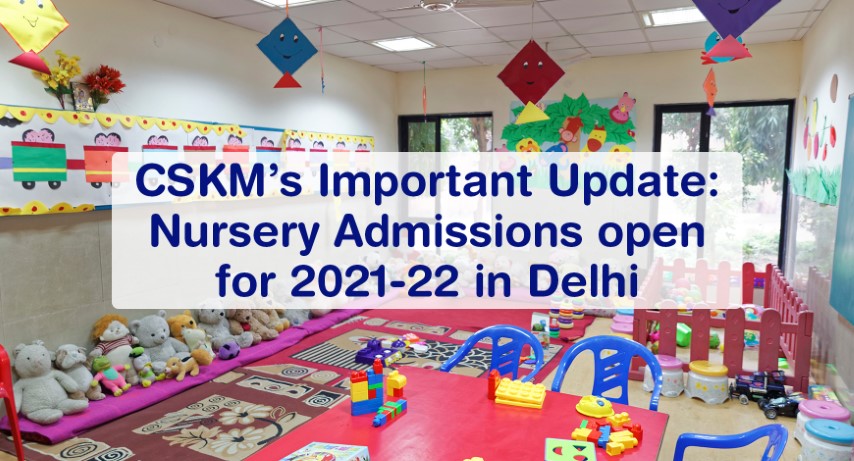 CSKM's Important Update: Nursery Admissions open for 2021-22 in Delhi
CSKM Public School
2021-02-26 04:05
After completing the school session with online classes in the previous year, Nursery admissions have been started for the academic session 2021-22.
Why CSKM
CSKM is considered the best school for online admission for Nursery in South Delhi. It offers a perfect combination of education, sports, and extracurricular activities for the 360-degree growth of your child. Here, experienced staff and teachers constantly work to help students to discover their hidden talent.
The school teachers focus on creating a joyful environment for the children to take interest in all the offered activities.
Why CSKM is called the top nursery school in South Delhi in 2021
The constant efforts and regular online classes made it possible to make CSKM one of the top nursery schools in South Delhi in 2021. When the lockdown was imposed, all CSKM teachers were trained online with a strategy to continue the online classes systematically.
Let's get to know about CSKM's marvellous school infrastructure
CSKM is surrounded by lush greenery and hence offering clean and fresh air. Located in the Aravalli Hills, CSKM offers a serene atmosphere in and around the school. CSKM's infrastructure boasts of various playgrounds for sports activities, a big auditorium for extracurricular activities, and different labs related to various academic subjects offered by the school.
To download the online admission form for Nursery in Delhi, log on to:
https://www.cskm.com/admDownload.php
You can also directly apply online for the nursery class admission in 2021-22 in Delhi. All you need to fill up details here:
https://www.cskm.com/admregisternur.php
You can provide all the details to enrol for your child's admission to Nursery for the year 2021-22.
CSKM boarding school in Delhi offers a world-class study environment with all the required facilities like hostel facilities, 24-hour power backup, air-conditioning, clean drinking and bathwater, WiFi connectivity, and multiple computer labs.
Related Post :