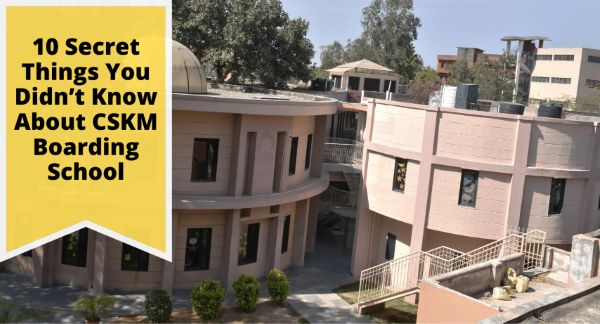 10 Secret Things You Didn't Know about CSKM boarding school
CSKM Public School
2020-02-17 05:37:01
One of the best boarding schools in Delhi, CSKM offers top-notch services across all its divisions like academic, sports, and extra-curricular activities. The school's staff is trained to be responsible for every kid's 360-degree growth. From personality development and board results to the extra-curricular activities, every aspect is taken care of by the dedicated teachers.
There are some secrets and facts about CSKM, you must know before finalising a nursery school in South Delhi. Those secrets include:
Started by a retired Army Personnel
Founded by Lt. Col. P.S. Satsangi, this nursery school in Delhi follows the best of discipline to ease the lives of children who study here. He was awarded by many honours including the Vishisht Sewa Medal (1979), Bal Mitra (1983), Bal Sahyog (1987), PTA of India (1989), the Kohinoor Ratna (1991) and the Delhi Ratna (1998).
Far from Pollution
Far from the polluted area of crowding Delhi, the CSKM boarding school lies in the greener area inside Ansal Villa Farm Area. The Asola Wildlife Sanctuary behind this school and the noise-free environment makes it a perfect place to get an education. The 350 trees on campus ensure pollution-free breathing to maintain your kid's health.
The Highly-Experienced Teachers
We are dedicated to providing the best of education from nursery to the senior secondary level in CSKM boarding School. Every teacher who is assigned to any particular job is well-educated and highly experienced in their dedicated subjects.
Most Hygienic School
The piping hot and delicious food is served inside the vast dining hall of CSKM Public School. Different types of food items are served throughout the week to provide complete nutrition and taste to the students.
Big Campus
CSKM public school's vast campus is spread in 15 acres with 100s of facilities inside its boundary. All its labs and classes are equipped with technological advancements so that students could learn and understand academics through most appropriate methods.
Well-Disciplined
CSKM teaches its students to manage and live their life in the discipline. The school is a centre of excellence where each student learns the technique of living life happily with the help of discipline. Discipline is never compromised at the boarding school of CSKM.
The Oldest Day Boarding School
CSKM is one of the oldest day boarding schools in India, where thousands of students have taken education and pursuing a great professional career in their lives.
Related Post :