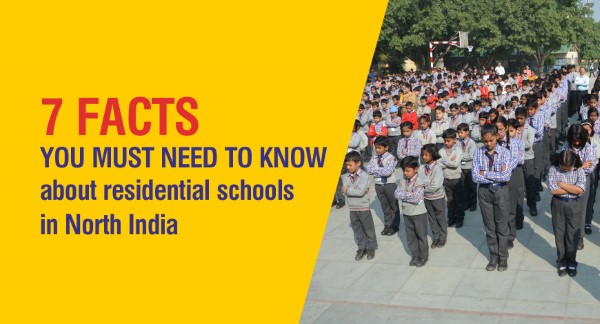 7 facts you must need to know about residential schools in North India
CSKM Public School
2020-09-14 04:02:01
Parents should select a reputed boarding school to ensure a bright career for their children.
Your child's career will depend on the school you are going to finalize for them. From hostel to academics, there are numerous factors like hostel facilities, experienced teachers, and hi-tech science laboratories related to residential schools that definitely impact the overall growth and development of students.
You need to take many facts into consideration before admitting your child to a reputed boarding school in Gurgaon or Delhi. Knowing those facts will help you to make the right decision for your child.
Here are some of the important facts you must ponder before sending your child to a residential school:
Good academic structure
This is the primary facility that should be great in every sense like curriculum, maintained libraries, and experienced teachers for all the subjects. Therefore you must confirm the condition of the academic structure in a school. It may also include; the strength of students in a class, student-teacher ratio, the type of desks provided, exams and test frequency, etc.
Hostel facilities
The hostel of a boarding school should have all the required facilities like cooling and ventilation, clean water, private almirahs, WiFi, comfortable beds, etc. Hygiene and security should also be the priority of parents when it comes to mandatory facilities in the hostel of a boarding school. Also, do not forget to confirm medical facilities in a boarding school, which is an assurance to manage medical emergencies.
Sports facilities
Discipline and fitness are integral aspects of sports. Hence, a school should have ample space to perform multiple sports activities simultaneously. It is as important as academics to exercise better self control and maintain an active brain to perform intellectual activities throughout life.
Well-equipped science labs
Science laboratories with modern equipment are considered basic requirements of the students, which help them to learn concepts logically and practically. A reputed boarding school needs to have multiple science labs with modern equipment to help students gain in-depth knowledge.
Experienced teachers
Without highly qualified and experienced teachers, students will not be able to achieve optimum learning or score good grades in their subjects. Your first questions to the Principal or HOD should be the availability of trained and passionate teachers in a school. A good teacher not only teaches well but also helps students to think wisely and tackle problems employing their critical thinking skills.
Smart Classes
Smart class in a school is the need of modern age academic programmes. A school with smart classes ensures a better understanding of different topics, even with the strength of 30-40 students in a class.
High-quality food
Hostel in a boarding school becomes home for the students and this is the reason they need to rely on the food offered by the hostel facilities. Parents can ask about the quality of the food from the present students as well as from former students, the alumni.
These are the top 7 facts and things you need to know about a boarding school before choosing a boarding school for your child.
CSKM is one of the best CBSE residential schools in Delhi, where teachers and other allocated staff work in a collaboration to make students' life interesting and inspiring. The school has been highly successful while maintaining a good reputation for academics as well as a discipline through all the years since its inception.
Related Post :