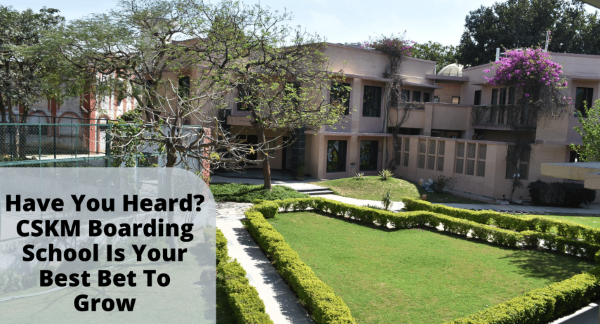 Have You Heard? CSKM Boarding school Is Your Best Bet To Grow
CSKM Public School
2020-02-17 05:14:48
Hundreds of boarding schools are opened across the country. But a very few of them are focused and productive in terms of delivering high-class education in sports and academics.
Making a respectable place in the list of top 10 boarding schools in India, CSKM offers curriculum from Nursery to the Senior Secondary standard.
But, do you know what makes CSKM one of the best boarding nursery schools in Delhi? Here are the top 7 reasons behind:
Vast Campus
Spread in 15 acres, CSKM public school offers a big infrastructure that meets all the requirements of a good boarding school. The school offers state of the art infrastructure and all dedicated labs to provide world-class education and knowledge giving techniques for the students.
Dedicated Staff
Each class, lab, sport, and extra-curricular activity is facilitated with well-experienced teachers and instructors to help the students. It helps students to bring full potential out of them. Monthly feedback of students is taken to maintain and improve the facilities in this school.
Pollution-Free Environment
Far from the hustle and bustle of the city, the CSKM boarding School lies between the greener area of the Aravali Hills. More than 350 hundred trees on the campus itself promise to boost the level of oxygen and eliminate micropollutants from the air.
Highly Secured
The strength of more than 100 CCTV cameras monitor all the corridors, classrooms, and halls, which guarantee the safety of every kid that studies in CSKM long hours day boarding school in Delhi. The inside staff is too responsible and highly-concerned about the security of students.
Hygienic & Nutritious Food
This boarding school's motto is to make every child healthy from both inside and outside with the help of providing nutritious food. The vast and healthy vegetarian menu options throughout the week make the students happy and healthy.
360-degree Growth
From emotional stability and self-management to the analytical & critical thinking, every skill is taught to prepare the student for all kinds of challenges in their lives. Students are taught to define values and ethics in their mind to live a blissful and easy decision-making life.
Extra-Curricular Activities
Apart from academic studies, the CSKM boarding school also counts long hours for providing classes in extra-curricular activities like singing, acting, and dancing. The school values all the fields the same because the definition of success has been changed in the current time, which is highly admired and promoted by the top authorities of this school.
Related Post :