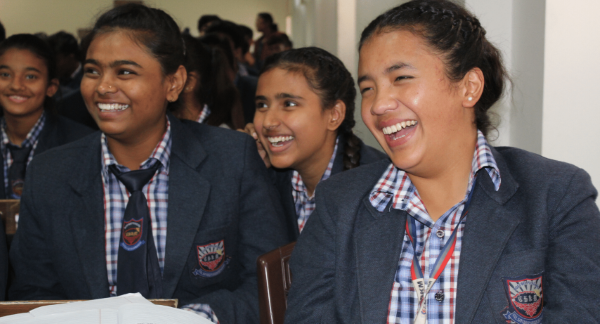 What makes a kid happy at the school?
CSKM Public School
2020-06-19 03:37:24
Happiness is a thing that is not easy to maintain anywhere. It takes a lot from money to healthy relations to be happy. Every country and institution must need to maintain happiness index for the betterment of lives.
Schools are places where children spend a lot of time. We all must have heard about depression in children due to the burden of studies and misbehaviour of teachers and other children in the school.
All the schools in India have improved a lot to maintain the happiness index to see the smile on the faces of little munchkins. There are many things involved to bring happiness in the lives of children.
These are the 5 things that help children to stay happy and burden-free:
Supportive Environment
Apart from the study, a Teacher must support students to speak frankly about whatever they are going through. This will help to create a supportive environment for the students.
Freedom of speech
Students should be allowed to bring their thoughts in the notice to make suitable changes in the school. They should be allowed to speak against the things they feel no good for their present or future. It also helps to develop leadership skills in the students.
Modern Facilities
Facilities like centralised cooling, computers, WiFi, multiple libraries, and indoor games equipment boost the sense of entertainment in children. It keeps their mind calm, creative, and productive.
Extra-curricular Activities
All the students are not good in studies. Some of them may like to dance, sing, and acting of course. The facility of extra-curricular activities offer them opportunities to live their dreams and passion. It relieves their mind and helps to bring out their inner artist.
Availability of Sports
What if some of the students are so good at sports that they can bring even medals for the country? In that case, they must be allowed to play sports of their choice. This can help them to lead a very satisfying and happy life.
CSKM boarding school in Delhi proved itself to be one of the best schools that offers all modern facilities and supportive environment for the overall growth of your kid. Weekly assessments help teachers to understand what these students are up to.
The Primary to Senior Secondary school, CSKM is one of the best boarding school that has earned a great reputation for making lives better.
Related Post :