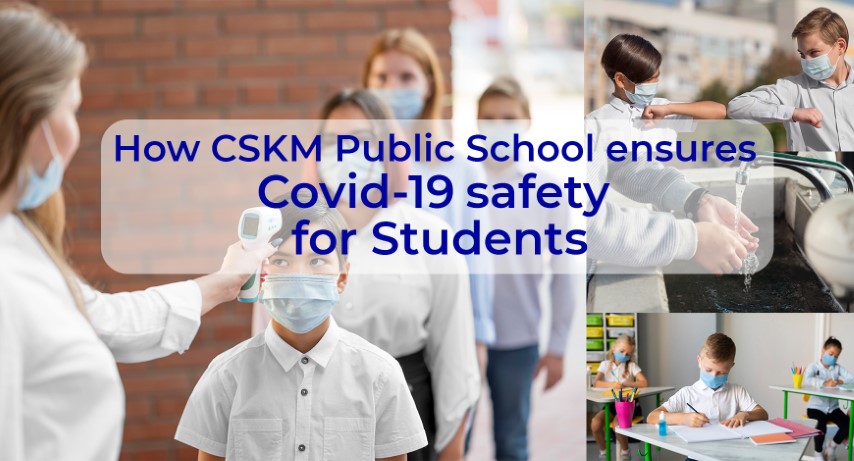 How CSKM Public School ensures covid-19 safety for students
CSKM Public School
2021-02-04 01:06:57
The new normal is to live with covid-19 for a few or more months or years. We still need to take care of ourselves taking all possible precautions by practising social distancing, washing our hands regularly and wearing mask in public places.
But, reopening of schools during covid-19 pandemic and the safety of children has become a major concern for the parents. They are worried about the safety of their children and looking forward to positive steps taken by the schools.
Here, CSKM comes out as the best boarding school in Delhi NCR that has made optimum arrangements and followed all the Covid protocols to ensure the safety of your children.
Look at these important safety steps taken by CSKM to ensure complete safety of the students:
Safety precautions for day boarding school students:
Before boarding the school bus, the conductor will ensure that each student will enter the bus after self-hand sanitization.
Thermal screening will be done before entering the bus and the main gate of the school.
For boarding school students
Before leaving the hostel for classes, all the students will necessarily self-sanitize in the presence of the warden.
Before leaving the hostel for morning breakfast, each child will pass through thermal screening by the warden.
Precautions taken for all the students:
Morning assemblies will be conducted through the PA system with students on their assigned seats in their classes.
All gatherings will be handled and monitored by teachers and warden by maintaining proper social distancing.
CSKM Public School is ready to reopen, upholding students' safety as top priority as per the guidelines released by WHO/ICMR for returning to school. All the school teachers, hostel wardens, and other school staff are guided to ensure the safety of the students.
Related Post :